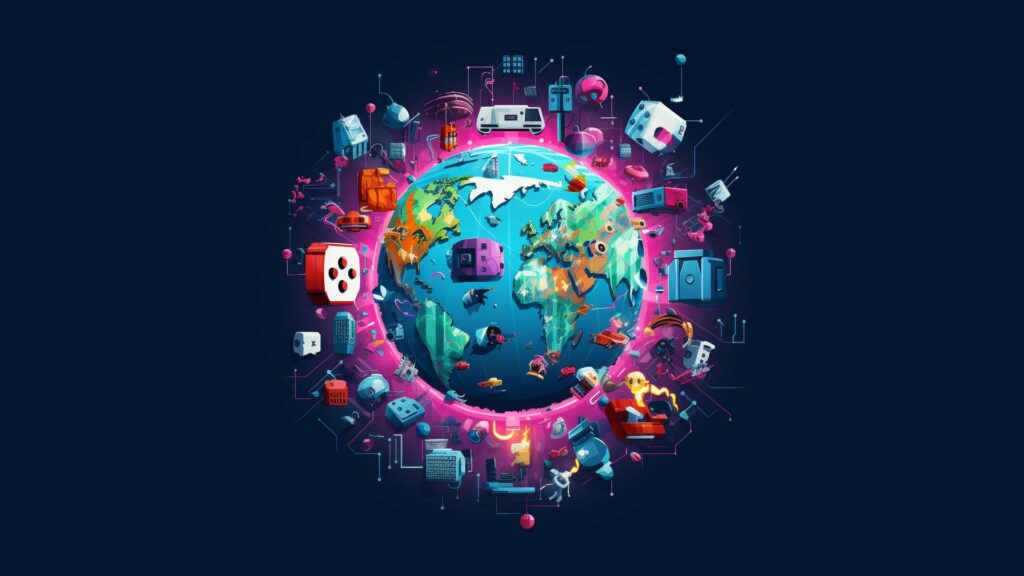 Imagine a whirlwind weekend where thousands of creative minds from across the globe meet up to do one thing – make games! Welcome to the world of Global Game Jam – the 48 hours challenge where programmers, artists, designers, and gamers converge to revolutionize the gaming landscape. Buckle up as we dive into the caffeine-fueled adventure that is the Global Game Jam!
So, what is the Global Game Jam?
Global Game Jam, or GGJ for short, is the annual gathering that brings game developers, designers, artists, and anyone who lives and breathes gaming together. With events taking place in hundreds of locations across the globe, this is the ultimate celebration of all things video games.
What Is The Concept Behind The GGJ Event?
The concept behind the GGJ event is to bring together game enthusiasts, developers, and artists from around the world to create new and innovative games. It is a 48-hour hackathon-style event where participants collaborate and work on experimental game development projects. What's unique about Global Game Jam is that it's a collection of mostly in-person-only game jams organised on the same weekend and with the same theme.
The event encourages creativity, teamwork, and skill-building as individuals form teams and brainstorm ideas to design and develop a game within the given time frame. The aim is to challenge participants to think outside the box and push the boundaries of game design. The GGJ event promotes the sharing of knowledge and experiences, fostering a global community of game developers. Participants can make digital games for PC, console and other devices, as well as physical games such as board games.
What Are Some Themes From Previous Global Game Jams?
Each year, the Global Game Jam brings together thousands of game developers from around the world to create innovative and interesting games in a limited time frame. Over the years, a multitude of themes have been explored during this event, sparking creativity and pushing boundaries.
Some notable themes have included "waves," which encouraged participants to think about various interpretations and applications of the word; "ritual," which inspired games centered around the mystic and supernatural; and "repair," which challenged jammers to explore the act of fixing and rebuilding in both literal and metaphorical senses. These themes have fostered a diverse range of games, showcasing the immense talent and imagination of the participating teams.
| Year | Theme |
| --- | --- |
| 2009 | As long as we have each other, we will never run out of problems |
| 2010 | Deception |
| 2011 | Extinction |
| 2012 | An image of "Ouroboros" |
| 2013 | The Sound of a Heartbeat |
| 2014 | We don't see things as they are, we see them as we are |
| 2015 | What do we do now? |
| 2016 | Ritual |
| 2017 | Waves |
| 2018 | Transmission |
| 2019 | What home means to you |
| 2020 | Repair |
| 2021 | Lost and Found |
| 2022 | Duality |
| 2023 | Roots |
List of previous themes for the Global Game Jam by year.
When Are Teams Assembled For Global Game Jam?
Teams are typically assembled for the Global Game Jam at the beginning of the event. Participants gather together and form teams based on their interests, skills, and the ideas they have for creating a game. This process usually takes place on the first day of the event, during the team formation period.
It is common for participants to pitch their game ideas to the group, and then others can join a team based on their interest in a particular idea or their compatibility with the team members. This allows for a diverse range of skills and perspectives to come together, fostering collaboration and creativity throughout the jam.
If you've never joined a game jam team before, check out our article: How To Find A Game Jam Team – Like A Pro.
How Are The Final Games Published?
All games made during the event must be uploaded to the official website in the condition they are in as of the close of the GGJ event (Sunday). This includes both the executable game and its source code. This helps people around the globe both enjoy and learn from the creators' work.
How Does It Work With Intellectual Property Rights?
The team/makers of the game hold all IP (Intellectual Property) rights. IP rights refer to the legal protections granted to individuals or organizations for their original creations. These rights enable creators to control and profit from their work while also encouraging innovation and creativity. Games that are uploaded to the GGJ website are uploaded under the Attribution-NonCommercial-ShareAlike 4.0 Creative Commons license.
Uploading the game under the Creative Commons 4.0 license means the team that created the game owns the original content and can do with it as they please. Meanwhile, Global Game Jam retains an original copy that other people can download, modify and distribute but not sell.
When Is The Next Global Game Jam Event?
Global Game Jam typically takes place at the end of January each year. The next Global Game Jam event will be held on: 22nd – 28th January 2024. Below is a table of previous GGJ Events:
Date
Number of Locations
Number of Countries
Number of Participants
Number of Games
30 Jan – 1 Feb 2009
53
23
1,650
370
29-31 Jan 2010
138
39
4,300
900
28-30 Jan 2011
169
44
6,500
1,500
27-29 Jan 2012
242
47
10,684
2,209
25-27 Jan 2013
319
63
16,705
3,248
24-26 Jan 2014
488
72
23,189
4,292
23-25 Jan 2015
518
78
28,800
5,438
29-31 Jan 2016
632
93
36,164
6,866
20-22 Jan 2017
701
95
36,401
7,263
26-28 Jan 2018
803
108
42,800
8,606
25-27 Jan 2019
860
113
47,006
9,010
31 Jan – 2 Feb 2020
934
118
48,753
9,601
27-31 Jan 2021
(Online only due to COVID-19 pandemic)
585
104
28,825
6,383
20-30 Jan 2022
680
100
33,000
5,860
30 Jan-5 Feb 2023
800
108
40,000
7,637
A table showing dates and statistics of previous Global Game Jam events
How Can I Signup to Take Part In Global Game Jam?
Visit the event's official website to sign up and participate in the Global Game Jam. On the website, you will find a "Sign Up" or "Register" button which will direct you to the registration page. You will be required to create an account using your email address and set a password. Once you have successfully registered, you will have access to the event's resources, guidelines, and theme. It is important to note that Global Game Jam is open to people of all skill levels, from beginners to professionals, so don't hesitate to join regardless of your background in game development.